Make your travel to Derby a breeze with our comprehensive travel information. Discover the best ways to reach and explore the city efficiently. Find details on public transportation options, including bus and train services, that will seamlessly connect you to your desired destinations. Explore cycling routes and e-bike hire for an eco-friendly and active way to discover the city. With our travel information, you'll have all the tools you need to navigate Derby effortlessly and make the most of your visit. Plan your trip to Derby today and let us guide you to a memorable travel experience.
Map of Derby City
Advertisement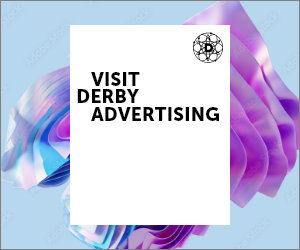 Getting to Derby by Car
Derby is just 15 minutes from the M1 junction 24 and accessible via the A6, A50, A38 and A52.
Car Parks
Derby also benefits from a great range of low cost car parks including the Safest Car Park in the World at Bold Lane, DE1 3NT.
More information on Derby car parks
More information on Blue Badge parking
Stay longer for your money. Use the MiPermit app and pay less for your parking, with reduced rates in Derby.
Getting to Derby by Bus
Derby Bus Station
The bus station is located on Morledge, Derby. There are 24 bays for local bus services and five coach bays. National Express and some holiday tour companies also use the bus station; please check with the holiday coach company where you will be picked up and dropped off. Parking is available in the main Riverside car park or on the roadside in Full Street both of which are only a few minutes walk from the bus station.
There is a Select Convenience store with café facilities inside the bus station as well as an information office, seating and public toilets including disabled facilities.
The information office is located centrally on the concourse and is open Monday to Friday from 8.30am to 5.30pm and Saturday from 8.30am to 1pm. A selection of ARRIVA, yourbus, trentbarton tickets and other products including timetable leaflets and books are also available from the information office.
There are electronic and static information stands situated throughout the concourse and at each bay and toilet facilities are available on site.
Contact details
Telephone: 01332 711553 or 01332 711554.
Address: Derby Bus Station, Morledge, Derby, DE1 2AY
Getting around Derby by Bus
There are bus service to all areas of Derby and a large number of destinations in the surrounding area.
For details about the different bus tickets that are available in the city, you can use the bus ticket guide.
Bus Operator Information
Derby has several main bus operators that run a majority of local services. These are:
A selection of Arriva and trentbarton tickets and other products including timetable leaflets and books are available from the information office at the Bus Station in Derby which is located centrally on the concourse. Opening hours are Monday to Friday from 8.30am to 5.30pm and Saturday from 8.30am to 1pm.
Can I catch a National Express Coach from Derby?
National Express Coach Services operate from the bus station in Derby. You can purchase your ticket from the Information Office at the bus station or contact National Express directly.
Park and Ride
Coach Parking
Information about coach parking in Derby
Getting to Derby by Train
The opening times at the ticket office in Derby Railway Station are:
Monday to Saturday from 6am to 8pm
Sunday from 6am to 8pm
Derby is only 93 minutes from London St Pancras with 35 direct services everyday with East Midlands Railway. Journeys take less than 30 minutes if you are travelling from nearby Nottingham, Leicester and Birmingham. Call us on 03457 125 678. Lines are open 24 hours a day, 7 days a week.
For trips to Derby and Derbyshire you can also purchase a Derbyshire Wayfarer ticket, providing unlimited rail and bus journeys within the county and other selected destinations. You can purchase tickets from the Sales and Information Centre at the Guildhall Theatre, Market Place, Derby.
Getting to Derby by Aeroplane
East Midlands Airport connects you to Derby from over 80 destinations worldwide.
Train connections are available from East Midlands Parkway via a Railink shuttle service or the Skylink bus operates every 30 mins 24/7 from just outside the terminal.
Alternatively, there is a wide range of car rental options based at the airport as well as an onsite private taxi service.
Visit East Midlands Airport for further detail and a full list of destinations.
Getting Around Derby - Walking
Derby is a compact city and it's really easy to explore on foot. The city centre is thoroughly modern with pedestrianised zones to keep you safe around the main shopping areas.
The city has a long and eventful history stretching back hundreds of years. We have loads of historic buildings, parks and landmarks that you might not have noticed when you're flying past in a car or on the bus. Go for a walk in Derby and you can start to appreciate some of those things that you never knew existed.
If you fancy a good walk, why not try one of these suggested routes? Explore some peaceful parts of the city and get active.
Cycling in Derby
There are over 100km of cycle routes in Derby, with even more available in Derbyshire. With the addition of the National BMX track at Alvaston Park as well as the new Velodrome at Derby Arena, Derby is cycle central. Visit our Cycling in Derby page for more details.
Visit the Cycle Derby website for more information and routes.
Lime e-bike hire in Derby
The Council has partnered with e-bike operator Lime to launch a new pay-as-you-go electric bike scheme in the city. Citizens can now hire shared e-bikes in key city locations and enjoy the benefits that cycling can bring, from improved health to cleaner air. The bikes will be gradually introduced to the city in a phased approach.
You can read more about the scheme here.
Sign up to our monthly newsletter
Be informed about the latest offers, events, stories and tips for Derby and its region.
All information will be treated in accordance with our privacy notice.