Derby Season of Light 2023
£3 - £12
Gallery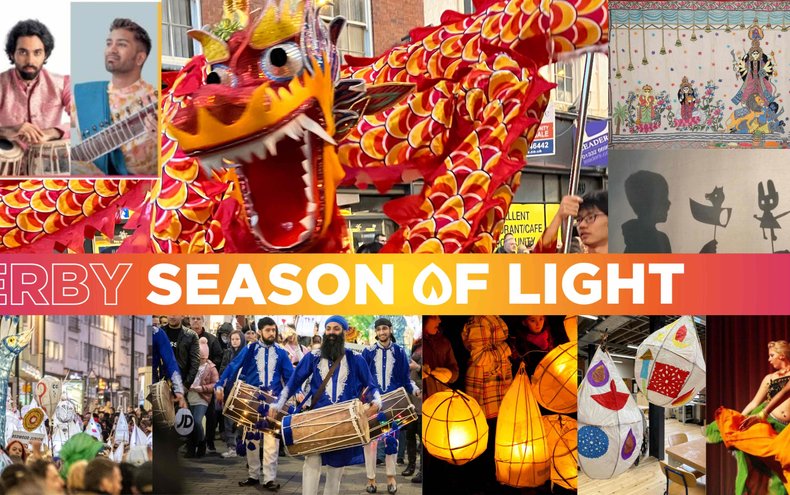 Description
Illuminate Your Autumn with Derby Season of Light (DSOL) 2023! Derby Season of Light is a celebration of our city's dazzling diversity.
From 6th October to 30th December, Diwali, Rabi' Al-Awwal, Christmas and Chinese New Year are all in close proximity, and where 'Light' is the common theme that binds us together.
Using this theme of 'Light' and South Asian arts as the foundation, we will be delivering a series of inspiring cultural experiences, culminating in a spectacular Lantern Parade in the city centre.
We're proud to say DSOL has become a staple event in our city's cultural calendar over the last few years. It's truly a celebration of community cohesion and artistic collaboration, with every single activity delivered in partnership with various cultural organisations from across the city and county.
Our exploration of cross-cultural, fusion and forgotten arts always leads to a programme that is inspiring, colourful, (sometimes unusual!) and beautifully inclusive. ​ Embracing Diversity and Creativity Through art, music, and festivities, we're weaving together the threads of our community, celebrating the rich traditions that make us who we are. This year, we're also delving into the captivating world of rural Indian textile art and the art of recycling, further igniting the spark of creativity. ​
Prepare to be mesmorised as we spotlight on incredible talent of British Asian young musicians performing Diwali special 'Enchanting Raga' in Belper, Derbyshire. We're bridging the gap between mainstream and community arts organizations and venues, creating an inclusive platform that invites everyone to be a part of this wonderful experience. ​
Shine a light on 'Forgotten Heritage Art' From 6th October, the spotlight falls on the breathtaking exhibition 'The Hidden Story of Kantha' at Deda. Journey into the heart of rural India through the eyes of She-Kantha, an NGO in Kolkata. Witness the magic of simple running stitch (Kantha) as it weaves mythological and everyday rural life tales of West Bengal, preserving heritage and empowering women with a voice and self-sufficiency. Come and be part of an evening conversation with Malika Dudeja Varma, the woman behind this extraordinary NGO, She -Kantha. ​
Try Madhubani art (also Mithila art) online. This unique is a style of painting practiced in the Mithila region of India and Nepal. ​
Engaging Workshops and Unforgettable Events bring your family to our family-friendly workshops during half-term, where your children can explore the wonders of intriguing storytelling at Deda, dance, and the art of shadow puppetry. Immerse yourself in a kaleidoscope of Indian dance styles, from classical Kathak to vibrant Bollywood, or craft your own shadow puppet and lantern at our workshops hosted by Quad and Artcore.
The pinnacle of the season awaits with the spectacular Derby Lantern Parade on December 2nd. Derby Lantern Parade - A Parade of Colours and Culture. We are delighted to be partnering with Derby City Council and Derby Live once more to combine our Lantern Parade with Festive Derby celebration on 2nd December 2023, adding extra diversity and vibrancy to the sights and sounds of the event. Join us in making the Derby Lantern Parade a dazzling spectacle, as families, children, and young people from schools, Derby College and the community unite to light up the night with vibrant lanterns. Experience the magic of diverse performances, from the mesmerizing Chinese Dragon dance to the thunderous beats of the Dhol drum, and from the enchanting world of Bollywood to the high-energy Bhangra dance.
Your Invitation to Inspiring Moments. We can't wait to welcome you to Derby Season of Light 2023! Be prepared to embark on a journey of cultural discovery, artistic wonder, and heartwarming connections.
Join us in celebrating the beauty of light and life – it's a season you won't want to miss!
Join the conversation when you attend one of our events, we would love to hear from you. Please tell us or post your photos and talk about the event on social media. Do not forget to hashtag us! \#DerbySeasonOfLight \#DSOL2023 \#DerbyLanternParade ​ ​
Check out all the DSOL workshops, performances and concerts. ​ ​
Thank you to the Arts Council and all our partners who made DSOL 2023 possible.
Please join Surtal Arts mailing list to keep updated with all information.
Disclaimer: The event details on this website are sourced from event organisers, advertisers, and partners of Visit Derby. We strive to maintain the accuracy and reliability of this information. As we cannot accept responsibility for any errors or omissions, we strongly recommend that you verify all event information directly with the event host or facilitator before making any bookings or plans.